Powder Coating
We have a spray booth and oven capable of processing components up to 6 meters in length and offer a full range of RAL, BS, Epoxy, Polyester and Nylon powders to cover all of your coating needs.
Powder coatings are tougher and more durable than wet paint, and less likely to chip or peel.
Powder coatings are more environmentally friendly, being free of many of the unpleasant chemicals that wet paints contain.
Powder coatings produce an even finish, over a wide surface, without showing the direction of application.
What is Powder Coating?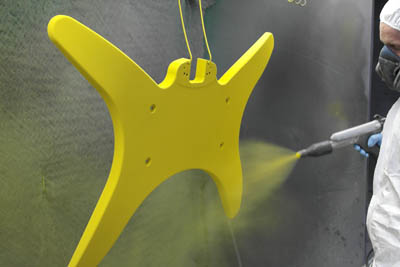 Powder coating is widely used method of applying a decorative and functional paint finish to wide variety of products including white goods, leisure goods, architectural cladding, vehicle trim, electronic enclosures, railway interiors and office furniture.
The powder coating is made up of finely ground resins and pigments and is most commonly applied through an electrostatic spray gun. The gun applies a charge to the powder as it is sprayed and this causes the powder to cling to the electrically grounded component.
After the powder has been applied to the component, it must be transformed in to a continuous film by heating (typically at temperature between 180 C to 220 C).
Advantages of Powder Coating
Powder coating tends to be tougher more flexible coating and less liable to chip pr peel than a conventional wet paint.
Unlikely many wet paints, powder coating have no VOC content
Powder coatings will give a uniform appearance over a large area and not exhibit the characteristic evidence of the direction of application found with wet paints.
Masking two colours
Nylon Coating
In addition to epoxy and polyester-based powder coatings, the company also applies nylon finishes.
There are "pure" nylon coatings, based on polyamide resin system, which have the following special properties:-
Excellent chemical resistance, especially to oil and solvents
A high resistance to damage by impact and abrasion
A low coefficient of friction
The coatings are applied by electrostatic spray which means that colour changes are rapid and the company can offer a full range of RAL and BS standard shades.
Although initially more expensive than polyester coatings, Nylon has superior wear, abrasion and impact resistance. Any extra cost is recovered many times over by savings in maintenance and replacement costs. Coating with Nylon is a major part of our day to day business. We are an approved applicator of Rilsan, and have built up a considerable expertise with this product.
Key benefits of Nylon are:
Manufactured from renewable resources
Non Toxic
Excellent wear characteristics
Good corrosion resistance
Good chemical resistance especially to solvents
Good thermal insulation, ideal for warm to touch applications
Flexibility at low temperatures
Smooth low friction surface 
Certified colour formulations for all standard colours in our spectrophotometer or we can match accurately to any colour sample. RAL, BS, Pantone, NCS and Munsell charts available.